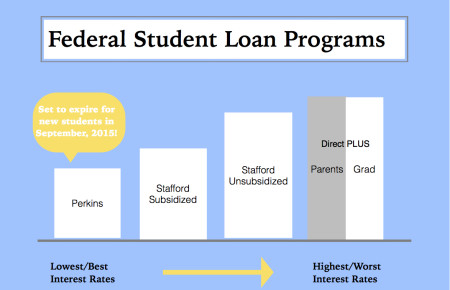 One of the most confusing things about our student loan industry is trying to figure out what kind of loans are out there. In fact, too many of you aren't even sure what you have ended up with after you've taken out the loans. It isn't your fault—our student loan offerings are a strange, piecemeal collection of programs that Congress has squabbled over for decades. Some loan programs (like Perkins) require that you be particularly financially needy. Others put your parents on the hook for repayment, rather than you (Direct PLUS for parents). Each program has it's own borrowing limits, most of which are not very high, so a lot of students will end up with a collection of many loans. And since each loan program has different interest rates and terms...you get the picture.
So what is a student to do?
First, keep in mind that even in all of the confusion federally-backed student loans are a better deal than private loans from banks and credit unions. They generally come with better interest rates and with more flexibility for repayment.
In most cases, your educational institution will try to put a package of federally-back loans together for you after you have filled out the FAFSA and related paperwork.  They have a lot of practice at this, after all, but you will want to keep an eye on things to make sure you are getting the best deal possible. The chart below will help you figure out what you might qualify for and which loans you are hoping to get. Keep in mind as you look at it, that these are just loans—before you reach for these you will want to try for scholarships and grants (but more on that in a later post).
What do you do once you have them? Read my next post, Wrestling Your Student Loans Into Submission.
---
*The old Federal Family Education Loan (FFEL) Program has now been absorbed into the Direct Loan Program you see in the diagram.